When it comes to enforced disappearances, all parties suffer; the person who is arrested as well as their family.
Ram Maya Nakarmi, 44, is packing up all her belonging as she prepares to move her residence again. She has been renting a one-bedroom flat with her only daughter, Lumana Nakarmi. It will be the fourth time she moves homes in the last five years, after the earthquake of 2015 destroyed her old house- the same old house where her husband, Padam Narayan Nakarmi, was forcefully taken away in 2003.
Padam Narayan Nakarmi use to work as an ironmonger in a small iron grill enterprise in his home town of Bungmati, Lalitpur. He also had few affiliations to the Maoist according to Ram Maya. They had just five short years of married life before everything changed.
The doorway to Ram Maya's rented room in Bungamati. © 2020 – Sabrina Dangol/HRJC
"Deep down I knew it was coming," she says. A few days earlier, eight of her husband's friends got arrested. "When they came for Padam, the security personnel put up a ladder and climbed into our home. They didn't even knock or gave us a time to decide anything. If I had known back then, I would have locked all the doors and windows shut."
When they came for Padam, it went so fast that Ram Maya only remembers pleading to the security personnel to accompany him to the police station. They did not allow it but reassured her that he would return the next day.
It has been 17 years since that day.
A collection of old pictures of Ram Maya's husband and relatives on the wall of the rented room.© 2020 – Sabrina Dangol/HRJC
In the months following Padam's arrest, Ram Maya went to the police stations almost every day, to no avail. She went to every place could think of, walking 8 to 10 km daily to go into town. Buses were scarce and the fare was expensive for her modest budget.
Some of Padam' arrested friends were freed and told her that they had all been together in Bhairab Nath Barracks in Maharajgunj for months. They were later separated from Padam and taken to different locations.
Portrait of Ram Maya Nakarmi in Bungamati. © 2020 – Sabrina Dangol/HRJC
So, Ram Maya visited Bhairab Nath Barracks in Maharajgunj and Lagankhel Barracks in Lalitpur regularly for two years. Her daughter, who was four years old, kept asking for her father. So she took her small child with her to Maharajgunj and pleaded the authorities to at least let her daughter see her father. But that request was denied too. Ram Maya was told to go to the Royal Nepal Army (RNA) for answers and then to Naxal and Hanumandhoka. She kept going round and round in almost every place in Kathmandu.
She says, "I am not literate. I don't have people skills, nor can I present an argument properly. My brother-in-law helped me and accompanied me everywhere, but it was of no use. We got no answers."
Ram Maya's reflection caught in the mirror. © 2020 – Sabrina Dangol/HRJC
A picture of Padam Narayan Nakarmi. © 2020 – Sabrina Dangol/HRJC
Ram Maya's in-laws supported her for the first two years in the search, but later they also lost hope. Her daughter also stopped asking the whereabouts of her father and even talking about him. Ram Maya got a factory job in Bungamati and focused on raising her daughter. She is now 20 years old, studying and working at the same time. Neither mother nor daughter like to remember these moments anymore.
"We somehow survived amidst all the chaos but it feels like a part of both of our lives are lost. I say that I have given up, but deep down I still hope for his return." Ram Maya concludes.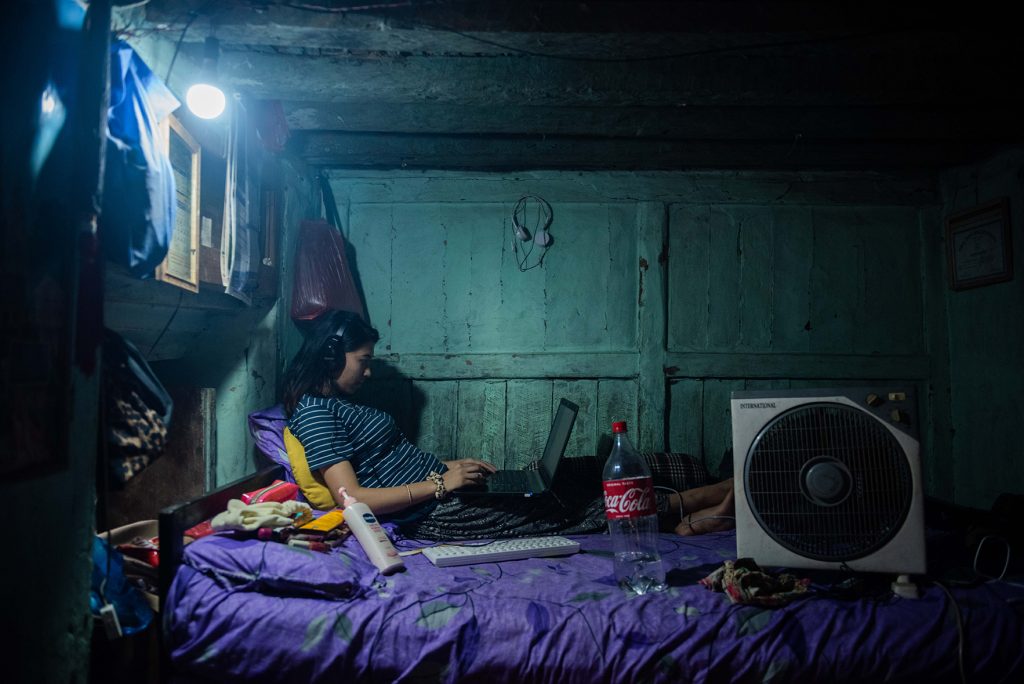 Ram Maya's daughter Lumana Nakarmi working on her laptop in her room in Bungamati.  © 2020 – Sabrina Dangol/HRJC
"When they came for Padam, the security personnel put up a ladder and climbed into our home. They didn't even knock or give us a time to decide anything. If I had known back then, I would have locked all the doors and windows shut."
Portrait of Bimala Dhakal 3 years back in a studio. © 2018 – Sabrina Dangol/HRJC
On the other side of the town in Kathmandu, Bimala Dhakal is also trying to move on.
She says, "The past is too painful to remember."
Bimala is from Gorkha, a small town 76km from Kathmandu. She lived there with her husband, in-laws and three children and teaching in a primary school. Her husband, Rajendra Dhakal, was a lawyer and the Chairman of the Gorkha district branch of the Forum for the Protection of Human Rights (FOPHUR). Because they were educated and vocal, both of them received threats and harassment from the authorities time and again. After Rajendra was arrested and released, he stopped his practice and went underground for many years.
In 1999, Rajendra travelled to the Tanahu district for an awareness program. There he was arrested with his two friends. When the news reached Bimala, she only hoped that they would release him like this last time. But she was wrong: it has been 21 years since that day.
After Rajendra's arrest, the authorities came for Bimala as well. The threats got so intense that she had to leave Gorkha. She left her job and family and move to Kathmandu with her three small children.
"The kind of pain I have faced… I don't think many can even understand even if I try my best to explain" Bimala says.
The years went by, each day a struggle to take care of her children while going to police stations and courts. She has now settled into a simple life in Kathmandu with her three children who all work now.
She says, "As a single parent, I had to put in double effort on my children. And my children also had to double their effort to be strong, study hard and not to let our past define them. Right now, we are happy because of this joint effort."
Portrait of Bimala Dhakal in her office Gorkhapatra in Kathmandu. © 2020 – Sabrina Dangol/HRJC
Bimala says she has given up all hopes of her husband returning yet still sees a slight possibility for a miracle. She watched the news about Coronavirus a few weeks ago when many people returned home from all over the world.
"While watching the news, deep down, I still had a hope that Rajendra could come back too," But it was just wishful thinking.
Sabita Basnet has not seen her husband, Milan Nepali, since 1999. He was a journalist for a Maoist affiliated daily newspaper when he got arrested from their home in Tebahal, Kathmandu. He was taken for questioning by unarmed policemen in a van.
Portrait of Sabita Basnet three years back. © 2020 – Sabrina Dangol/HRJC
For months all Sabita was allowed to do, was to drop off clean clothes in the police station. She wasn't allowed to meet or talk to her husband. On one of her visits, she caught a glimpse of him when she climbed up a hillock overlooking the police compound. There, she saw him from afar.
"I shouted to the top of my voice to get his attention, but I was too far away so he couldn't hear me. That was the last time I ever saw him, and it has been 21 years," she says.
After that day she initiated a legal fight for her husband's release. In this context, she met Bimala Dhakal in Kathmandu. With similar stories of loss and pain, and they became each other's support. Sabita referred Bimala for a job in her office, and they have been working together for 13 years now.
Sabita basnet and Bimala Dhakal talking to each other in their office in Kathmandu. © 2020 – Sabrina Dangol/HRJC
Out of tragedy, a deep friendship has blossomed. Bimala has now become like an extended family to Sabita. Their children have bonded too, being of the same age and having all missed a father and a normal childhood. "My children use to insist we went to Sabita's house on weekends," says Bimala.
"For all these years I was there for her and she for me. In such a difficult process, having a friend has been helpful for both of us to stay sane and have a normal life."
Funded by the European Union.
This publication was produced with the financial support of the European Union.
Its contents are the sole responsibility of the Human Rights and Justice Center and TRIAL International and do not necessarily reflect the views of the European Union.

All editorial content is the property of TRIAL International and the Human Rights and Justice Centre. Copyrights apply.
Photo copyrights: Sabrina Dangol/HRJC. All rights reserved. Licensed to TRIAL International and the European Union under conditions.