The Human Rights and Justice Centre (HRJC) improves access to justice for victims of human rights violations in Nepal such as torture, enforced disappearances, extrajudicial executions and sexual violence. Registered in Nepal since 2017 and based in Kathmandu, it was created with the support of TRIAL International, a Geneva-based NGO specializing in seeking justice for survivors of mass atrocities. READ MORE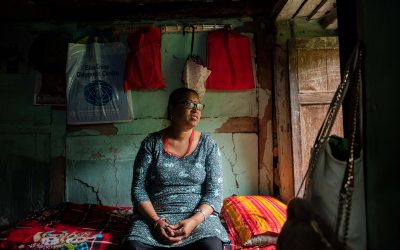 When it comes to enforced disappearances, all parties suffer; the person who is arrested as well as their family. Ram Maya Nakarmi, 44, is packing up all her belonging as she prepares to move her residence again. She has been renting a one-bedroom flat with her only...
The HRJC is composed of solely of Nepali staff. Each lawyer from its roster is carefully selected for their qualifications and dedication to human rights.
"Obtaining justice is the only way I can get closure. It will not erase what happened, but it will bring me back my dignity."
Amalina (pseudonym), victim of torture
"By working with the HRJC, I have made a concrete difference for victims of human rights abuse. Being coached by their legal advisors really boosted my confidence."
Paresh, Lawyer and member of the HRJC
"The Human Rights and Justice Centre is a unique project empowering both victims and lawyers. We believe in a collaborative approach, building bridges between local actors to achieve the best results."
Kapil Aryal, HRJC Chairperson
"The training at the Human Rights and Justice Centre has guided me on bringing international attention to the cases of grave human rights violations that occurred regularly in my region. I am thankful to Human Rights and Justice Centre for this."
Ram Bikas Chaudhary, human rights defender
"I feel I have become the voice of many victims like me before the United Nations and I thank the Human Rights and Justice Centre for their legal support on this."
Payal, victim of conflict-related sexual violence
"The knowledge imparted through the trainings of Human Rights and Justice Centre has not only added knowledge to my understanding but also empowered me to represent the victims of grave human rights violations better."
Hari Narayan Chaudhary, lawyer
Have you been a victim of a human rights abuse?
If you or your close ones have experienced grave violations of your rights, during the civil conflict or afterwards, we may be able to help. At the HRJC, you can talk to an experienced legal advisor, free of charge and in strict confidentiality. You will be told immediately what kind of support can be envisaged, including protection measures for your safety and wellbeing. All steps will be decided with you, in accordance to your wishes and needs.
Are you a Nepali or international organization working towards fighting impunity in Nepal? We would be happy to discuss opportunities to collaborate.
Human Rights and Justice Centre
Jwagal-10, Lalitpur
(near Asian College of Science and Technology)
Nepal
+977 9818 018 924
contact@hrjc.org.np